There are times you need a stunning piece for your home that's custom to you and your family. Well, that's what HTV is for! With heat transfer vinyl and a little creativity you can make just about anything.
So lately, I have been SUPER into watercolors. I just want watercolor on everything! That's what gave me the idea for this project. Get your lettering super precise with HTV but have a soft watercolor background. I was very excited with the result! And the best part? It's SO easy and gives you such a great looking product! This is sure to impress your family, friends, and customers. So let's get going!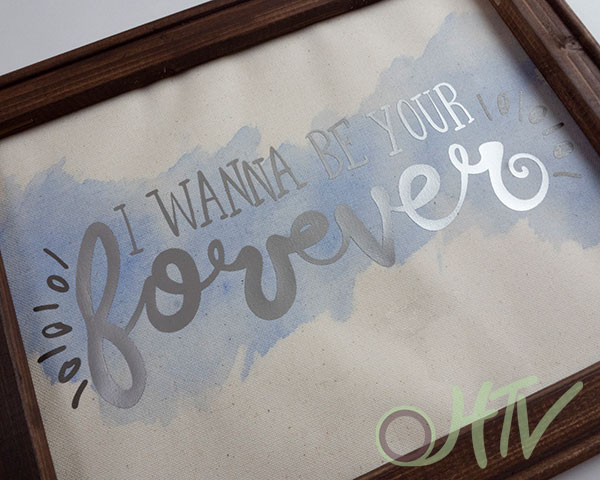 Heat Press or Cricut EasyPress
Canvas
Acrylic or Watercolor Paint
Paint Brush
Staple Gun
Scissors or X-Acto Knife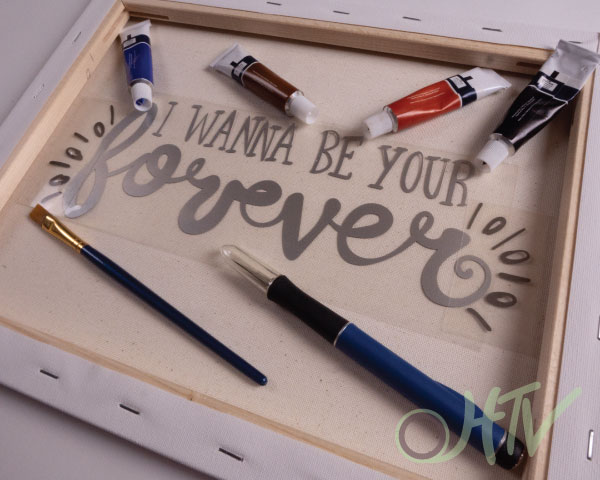 Step 1: Take Off That Canvas!
It's going to be real hard to press onto this canvas if you don't remove it first from its interior frame! You can do this two ways- pry off the staples that are there or do it the lazy way and just cut it off!
Don't worry about leaving the staples on there if you took the easy way out. We're going to cover that up later when we staple this canvas back on!
You're going to be left with the canvas separated from the frame. These interior frames aren't usually the best quality, which is why you might want to get some sandpaper and clean it up a little. We'll be staining it later and a little stain makes even cheap wood look like a million bucks! Speaking of which…
Let's STAIN. THAT. FRAME!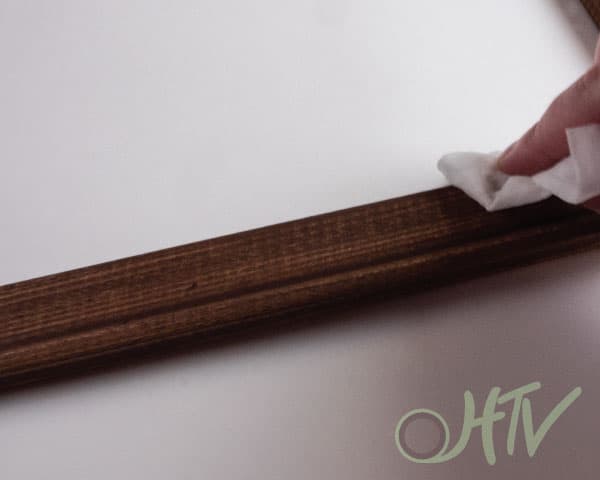 If you've got stain around the house you'd like to use, go ahead and use that! Don't have any handy? Here's a little trick I've picked up- baby wipes + acrylic paint = MAGIC.
Mix your acrylic to a shade you'd like and wipe it into the wood with the wipe. This method dries super quick and stains the wood nicely. The baby wipe helps the acrylic paint to settle into the wood instead of on top of it. Fantastic, right? Now that we've got our frame the shade we like, time to move onto the watercolor.
Step 3: Paint Your canvas
Grab those paints if you haven't already, get a bowl of water, let's get to painting!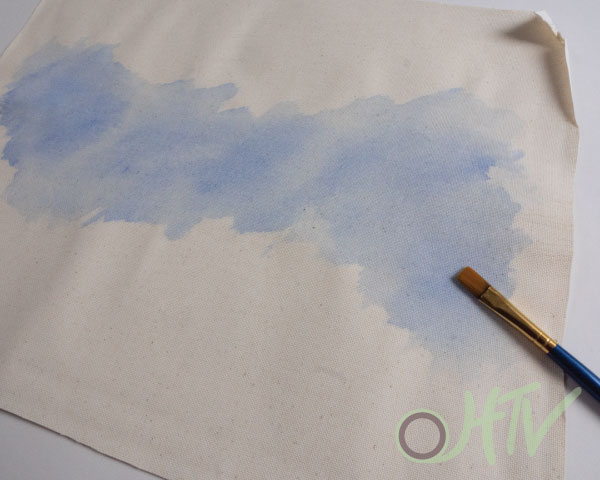 You may have noticed I said acrylic or watercolor paints. Watercolor paints are the best kind to use for this project- it's even in the title! But you may not have those around the house. Never fear, with enough water acrylic will work in a pinch! Just make sure you add a LOT of water to your paint. Don't worry about adding too much water- here's the thing about this project. Building up your colors is a good thing! It's MUCH better to start too light and build up than to start too heavy and whoops, you're stuck with it.
(But if you do have a whoops, grab a tissue and blot at it. If the canvas is wet enough, it'll pull up some paint for you.)
A bigger brush is best for this project but you can still spread all that water and paint around with a smaller brush.
I painted on the underside of the canvas- I like the look of untreated canvas. If you've thoroughly soaked your canvas the way I did, this is going to take a bit to dry. Set it aside and let's cut out your design!
It's a simple, easy to weed cut file! We used two different colors of HTV here (Antique Silver and Graphite) but this would look cute even in one color! I'd pick out colors based on what you did in your watercolors. Blue always looks stunning with silvers, so I went in that direction!
Now, the next thing you need to figure out is how big you need to cut this bad boy. My canvas is sized at 14″x11″. To make it fit comfortably in the middle, I sized my design at 11″ wide. If I was going to do this again, I'd probably even go a little smaller. Double check your size by measuring the inside of your frame- make sure it fits well and isn't right up on the edge!
After you have your size figured out, fire up your favorite cutter and put it to work! With your design cut and weeded and your canvas all watercolored up, it's time to put all the pieces together.
Step 5: Press Your Canvas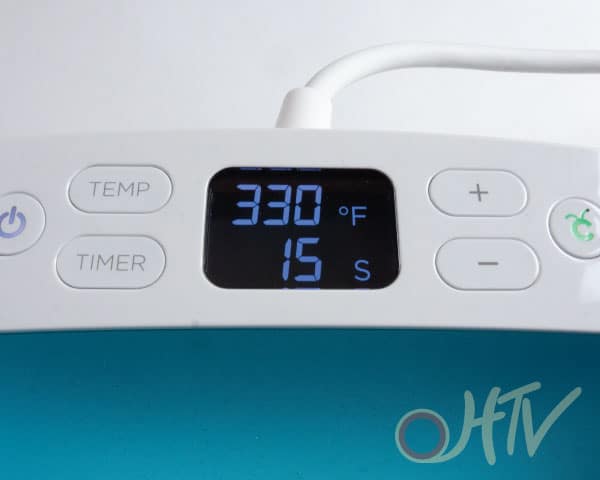 To get started pressing, first you have to get your heat press heated up to the right temp! I'm using ThermoFlex® Plus, which means my press needs to go up to 330° F.
Here I'm using a Cricut EasyPress- I really love my Cricut EasyPress for projects like these! With my Cricut EasyPress I've been able to press HTV onto wood (don't worry, I'll write that blog post soon!), shirts, baby onesies pillow cases, you name it! It's also very easy to use and heats up in a flash! The one draw back is it doesn't have the uniform pressure you get with a heat press. If you have a bigger piece and you have to make a lot of presses, that can lead to the HTV not adhering well in all areas, so be careful!
For this project I recommend using either a Cricut EasyPress or a heat press. Why no hand irons? Well, hand irons lack a larger surface which makes getting the right amount of pressure evenly much much harder. They also don't get as uniformly hot as a Cricut EasyPress or a heat press. Since you don't have good enough pressure OR heat from them, I can't recommend it for this project.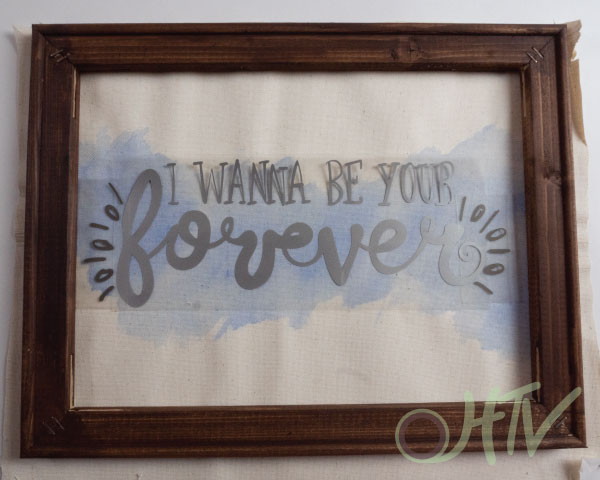 While the press is heating up, let's get the HTV lined up!
My little watercolor adventure left my canvas a little wrinkly so I pressed out the canvas and it looked fabulous! I then placed the frame on top of the canvas to see where I wanted the watercolor to be in relation to the frame. Right in the middle seemed to work just fine for me! After that I placed my weeded HTV on top of the canvas to work out where I wanted it. Everything looking good? Time to press!
This required 4 total presses- two for the main text, and two for the bits on the end. I pressed for about 10 seconds. ThermoFlex® Plus is recommended at a 15 second press, but that's for making sure you can put your shirts in the wash. It'll adhere beautifully and stay on my walls just fine at 10 seconds a press!
How do you know when you're done pressing? Take a look at the second picture! When ThermoFlex® Plus is pressed properly you'll see the texture of the canvas. If you see the canvas texture in the Plus, you are good to go!
Step 6: Restaple your Canvas
We're so close to done! Grab your staple gun and get ready to staple!
Make sure your canvas stays in place and flip it over. I took some nearby painter's tape and taped the sides of the canvas to the frame so it would be in place for the flip. Once in place, staple that canvas on there! As you can see, once the canvas is stapled on you won't see those other staples on the back of the frame. This method still leaves some canvas hanging out from the sides so pull out your X-Acto again and cut away the excess canvas on the edges.
And voila! We have the canvas fully stapled onto our frame and WE ARE DONE! Pat yourself on the back, you did a great job!
We'd love to see what you make with this technique! Tag your pics with #HTVLove so we can see them! We might even reblog your pic or put you on our customer shots page.
Thanks for reading and if you liked this post, please share it with your friends! In the comments, let us know what how to you'd like us to tackle next. Have a great day!
-Kath at HeatTransferVinyl.com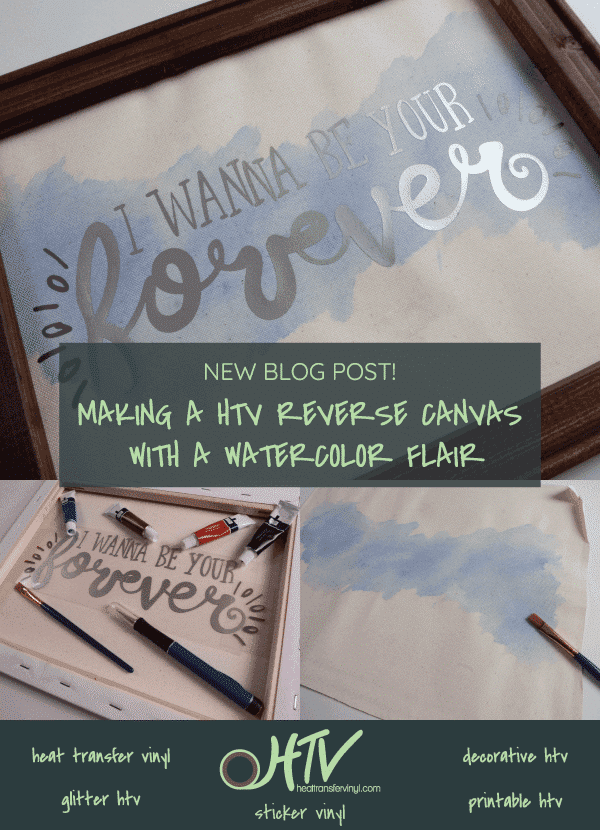 Check out our most popular products!
Sale!

$

1.50 Prices including tax: